Science
The core science sequence encompasses a three-year, inquiry-based program designed to foster the spirit of curiosity and encourage the ongoing pursuit of scientific knowledge.
The goal of the course work is to develop a conceptual framework that students can use to investigate a variety of disciplines. The courses are integrated in that concepts and skills introduced in ninth grade Conceptual Physics are reinforced in tenth grade Chemistry and applied to living systems in eleventh grade Biology.
The advanced electives present an opportunity for students to apply their fundamental knowledge of science to a particular area of interest. The ultimate goal is for students to possess sufficient knowledge and confidence to explore the ramifications of modern science in their lives.
The Science Department's mission is to see each student develop the ability to:
Explore the process of science
Examine how models and theories are formed, communicated, tested and changed
Increase awareness of current areas of research and testing of theories
Be scientifically literate
Appreciate and understand the science in their everyday lives
Apply their understanding of a set of basic scientific principles to new concepts
Build confidence in their ability to learn science and be willing to think about science on their own
Read newspaper or magazine articles involving science and be able to understand and willing to think about them
Differentiate between what makes intuitive sense and what really happens
Participate in scientific experimentation by doing hands-on learning activities, inquiry based experiments, and student-led demonstrations
Gain a deep understanding of concepts
Learn material in depth
Implement concepts rather than memorize content
Prepare for advanced science courses at both the high school and college level.
Click on any course name below to learn more.
Science Core Courses
Science Elective Courses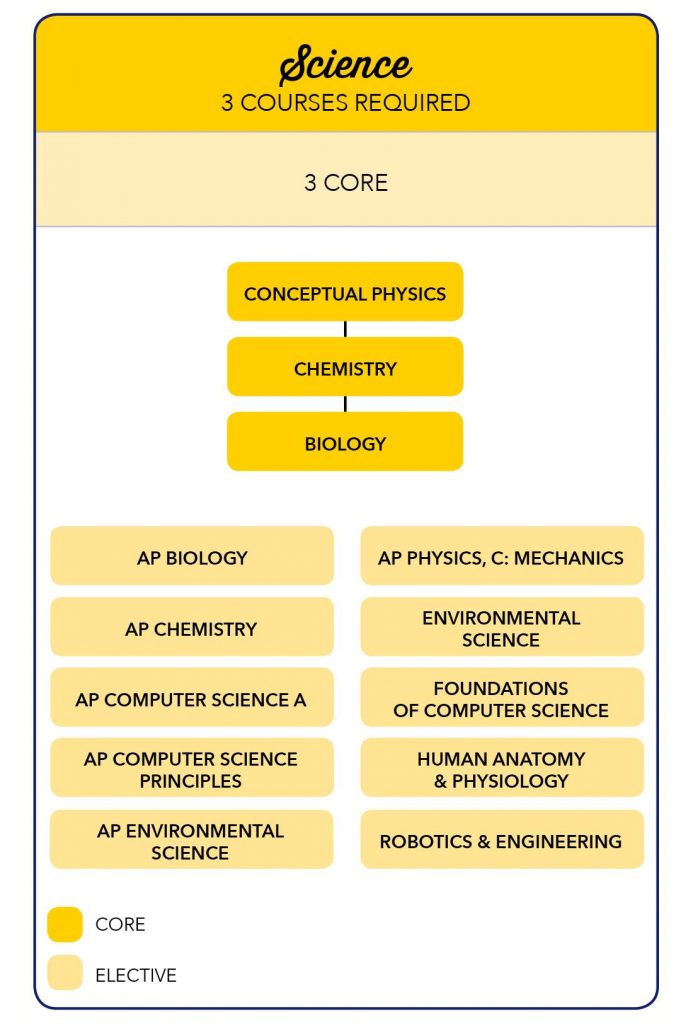 Click here to see the complete Curriculum Map.
Biology Experiment: Measuring caloric content of food