World Language
We challenge students to think logically, critically, creatively and reflectively.
The Jewish Studies program allows students to access thousands of years of wisdom, values, thought and culture. Our teachers guide students in asking and answering questions of ultimate concern and developing their individual identities. We train students to observe the nuances of language as a central skill in the critical thinking process. We teach students that they have a responsibility to themselves, to their peers and to the text in their learning. The Jewish Studies curriculum focuses on four core subject areas (Bible, Rabbinic Literature, History, and Culture) as well as different levels of study. We believe these subject areas represent the core of Jewish literacy as well as provide a solid foundation for lifelong Jewish learning.
Our program seeks to build and expand student skills in the areas of textual analysis, analytical and critical thinking and traditional text study. Our students develop sophisticated intellectual tools to develop their own personal Jewish identity and sustain their learning into adulthood. Our diverse course offerings allow students to explore the Jewish tradition broadly or dive deeply into particular areas of study.
The World Language Department's mission is to see each student develop the ability to:
Establish linguistic awareness
Gain an understanding of how to study language
Express themselves creatively in their speaking and writing
Explore the target culture and authentic interactions with native speakers
Connect with the target culture and develop a love of learning the language
Prepare for university language and literature courses
Identify areas of interest for further study
Click on any course name below to learn more.
Hebrew Core Courses
Spanish Core Courses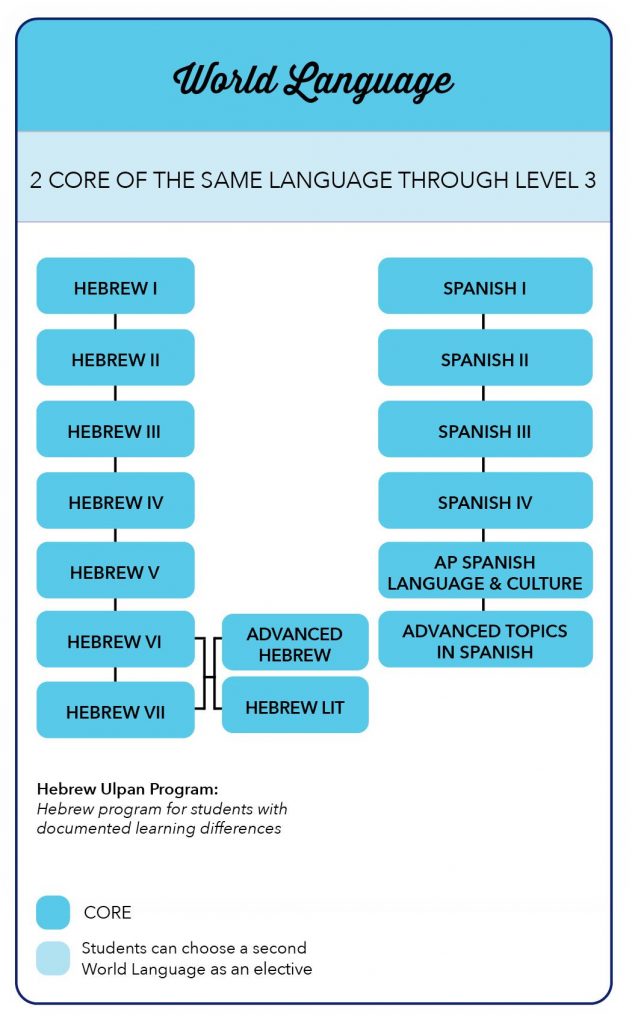 Click here to see the complete Curriculum Map.